On its own, Lego Indianna Jones is a good game. Where it becomes a better game is when you plug in a second controller and let someone else share in the brick smashing fun. Team Caffeine have taken this concept of "the more the merrier" on board and have created a game that solely revolves around co-op. Put simply, there is no single-player mode in Plight of the Weedunks so prepare to get friendly with someone.
Set in a world inhabited by genetic experiments called Weedunks, a cross between living creatures and household objects ("Imagine a bunny crossed with a toaster," I was told), one player controls Grando, a gaseous hot water bottle, whilst the other takes the reigns of Kohl, an alarm clock with some serious allergy problems.
Past this point it gets a little wierd… these genetic rejects are on the brink of being crushed and recycled when they escape the mangler and end up running amuck through the Weedunk factory, which is incidentally teeming with tiny unmodified versions of themselves. No matter how disturbing all of this sounds, the Psychonauts-esque graphics takes the edge off and actually makes it rather warming and humorous.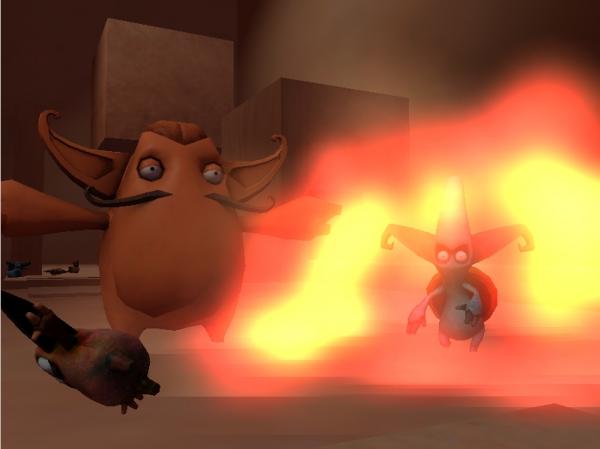 At it's core, Team Caffeine's game is a platformer. The twist being that the blockages you encounter throughout the level can only be solved through team work as only the other player can trigger your special abilities. Based around their defects, Grando has the ability to inflate and reach high spots whilst Kohl possess an explosive sneeze. The two can combine, too, as Grando does a convincing imitation of a zeppelin carrying, and seemingly propelled by, Kohl.
Communication is key as both coordination and placement are needed to get the pair of you through each barrier on the level. Throughout our fifteen-minute playthrough, Ali and I were constantly egging each other on or shouting out instructions so we could both progress. Every situation was full of banter and laughs as each character had their moment in charge.
Some simple puzzles had Grando floating up to platforms to flick a switch or Kohl was blowing up blockages. The most memorable portions, though, were when it was a series of back and forth, multi-stage puzzles that meant each character was needed multiple times and where the cooperation level was such that if you weren't getting on you then weren't getting any further in the game.
For me the strength of Plight of the Weedunks is in the simplicity of the core design; with two people and only a very small set of moves, there is the ability to know everything that you ever do in the game very quickly. This is very attractive in a multiplayer game because both players can get up to speed very quickly and then the game can be built up around that.
As with most games on show, the bite size sections that were produced promote them all as downloadable and episodic. Weedunk's is no different and having talked to the team they did mention that ideally they could even swap characters between episodes, keeping it fresh and introducing new experiences as they go.
At the moment future episodes maybe jumping the gun just a little – after the work they've all done recently I'm sure they'd be happy for a little break – but as it currently stands they have an absorbing and entertaining game and a great platform to work from.