We were so close to beating the old enemy, so close. I suppose most teams would bite your hand off for a draw away at the Emirates, but after performing so well for 90 minutes I can't help but feel a little deflated with Spurs drawing 1-1 with Arsenal.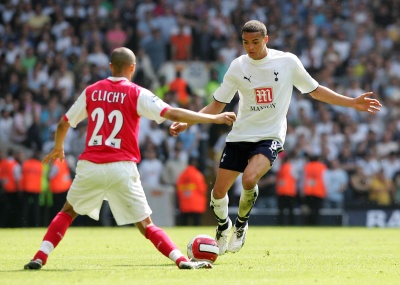 It's now getting on for nine years since we last beat the Gunners and I can remember exactly where I was at the very moment the final whistle went: I was still in my first year at uni and I was playing Actua Soccer with my Arsenal supporting friend on his PlayStation. As the ref blew for full-time he attempted to embed a fork in his door from six yards. Happy days.
Back in the present, we obviously have the second leg to try and work our magic in but, as per last year, I can't but help to think that that might have been our chance. Maybe years of "so close but so far" in cup competitions have worn me down but at the moment I can't see it any other way. Such is the life of a Spurs fan.
What did make me smile about last night was that it turned out my mother was watching the game. She's somewhere in France on a skiing holiday but still managed to text me after the first goal went in. Gawd bless her.