There are few things finer in this world than the wordsmithery of Tycho and the art of Gabe in Penny Arcade's thrice weekly update. They combine to pull the bizarre occurrences from within the video game industry into sharp, witty focus.
Now here we have the gaming commentators making a game themselves; how utterly delicious.
As well as eating into my word count, Penny Arcade Adventures: Episode 1: On The Rain Soaked Precipice of Darkness is a RPG set in the 1920s. A series of strange events involving fruit obsessed robots and your squashed home lead you to team up with the Startling Developments Detective Agency – namely Gabe and Tycho – and head off on an adventure of episodic proportions.
To fight your way through the metallic horde you employ a turn-based-ish approach to combat; you roll for the initiative and select attacks from an accessible interface that allows easy control of all party members. Attack availability is based on cool-downs and timers, with some lavish special attacks open to those with patience.
Keeping one party member out of the fray for long enough gives them time to power up their own super attack. Its effectiveness is decided through a quick mini-game based on button hammering and reactions. Get multiple characters powered up simultaneously and they'll combine to even greater effect and squishier sound effects.
Battles are swift and engaging, although they can be described as a little easy given the amount of items at your disposal and a generous, although nicely handled, blocking system.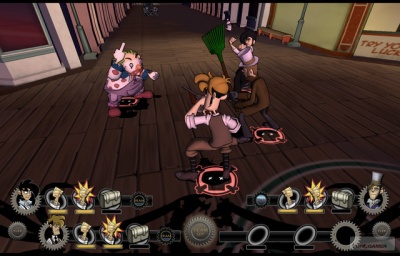 The adventuring portions are disappointingly mundane. There is never truly any puzzle solving, just beating up a certain amount of locals before one finally hands over a key object. That said, it's all really just a thin pretense to stick together an interesting combat mechanic and storyline that reminds me of the old Discworld games.
Everything within OTRSPOD comes from Penny Arcade's own fair hand; from the look to the utterly bizarre storyline, it has their mark all over it. Without them this is a simple, speedy, action RPG. With them, it's an unhinged Lovecraftian tale, laced with profanities. Whether that's a good thing or not is down to you.
7/10