Pirate Steve came to me and stated that he thought "Force Unleashed is this years Assassin's Creed." I can see what he means: it looks lovely, it's not the lengthiest game you'll encounter and there is a certain repetition to your actions. But is that a little harsh?
This latest instalment in the Star Wars saga is set between Episodes III and IV and reveals the trials of Darth Vader's secret apprentice, the laughably named "Starkiller". In order to do his master's bidding, he force blasts and light sabres his way through the galaxy, with you at the helm, in this RPG hack-and-slash.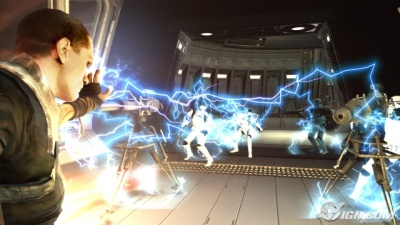 Combat is the lifeblood of Force Unleashed, and also its greatest strength. It very capably hands you control of all of Starkiller's force powers in a manner that lets each be executed with ease, enabling the player to string together a variety of combos without having to study a move list as long as your arm.
In early encounters you'll experiment with how exactly each target should meet their fate just to please the new god-like complex you have instilled in your character. Later on, though, variety is a necessity as creatures will face you that have discovered ways of counteracting certain aspects of the force.
Set piece boss battles are scattered throughout and prove a test of counter attacks and timing. All are a distinct ramp up in difficulty level, which seems out of character with your progression but do prove satisfying once bested.
Visually, Force Unleashed is impressive. Environments are crisp and detailed, but it is the tiny things – such as Storm Troopers resisting force grips by grabbing on to crates or each other, or Millennium Falcons sticking out of a scrap planet – that complete it.
Cutscenes must be commended, too; they sport some of the finest facial animation and expression that I've ever seen in a game.
For all the good points, however, the game failed to make me truly one with the force. It is an incredibly enjoyable hack-and-slash but with linear levels, very little incentive for replay and the feeling you've seen everything after one play-through, it falls slightly short of shrugging off Pirate Steve's observation.
7/10