I believe the initial barrier to any game is its control scheme. Wii Sports is a positive example of this where the controls are intuitive and accessible. Even if you don't play tennis down the park you know the motions involved and a few experimental swings will see you competing on screen.
A bad example is Alone in the Dark. Leafing through the manual there are no less than five separate pages bullet pointing what each button does in each context. Drop into an adventure game, Tomb Raider, Uncharted, Resident Evil, anything, and within the first few minutes most people will have figured out the main controls and be up and running, but even after more than two hours with Alone in the Dark there is no fluidity about anything.
The game opens with the high rise building you find yourself in being destroyed by an unknown demoic power. Rifts open up along the walls, swallowing people whole and turning them into possessed monsters. Your first task is to simply get the hell out of there.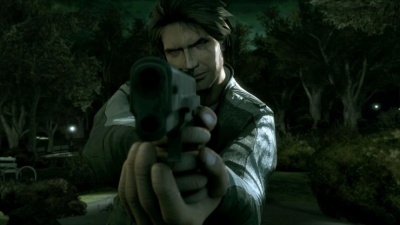 In the first fifteen minutes you'll experience platforming, abseiling, combat and some simple puzzles, but all are disjointed and never flow. Your character moves sluggishly, combat involves waving the right-stick around more in hope than expectation and equipping objects is an awkward affair. Even the brief driving section I have just encountered serves no respite as it feels as though you are steering a brick around on a bed of mushy peas.
The most frustrating thing for me, though, is the way that it will constantly switch you from first- to third-person. Given the camera angles of the game I feel far more comfortable exploring through the eyes of the protagonist, but after almost every cutscene or load I am dumped to a point somewhere floating behind his head simply because the controls are so convoluted you can hardly achieve anything in first-person.
However, I am going to percevere with it. I never like to give up on games so early and there are many things that attracted me to the game in the first place. The importance that fire plays in the game and the puzzles and interactions that will work around it; the ability to later on roam around central park; the general horror story and how it plays out. My only worry is that if I cannot best the controls then I may not reach these points.