After months of rumour and speculation Lego Rock Band has been confirmed. If there was one thing I thought those angular toys wouldn't be able to turn their hand it would be the world of rawk but here they are strumming away on their pieced together instruments.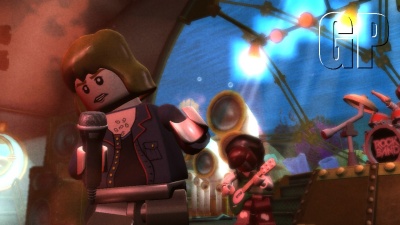 My first reaction was that this was a shocking cash in, a step down the Guitar Hero route that signalled the end of the franchise's moral high ground. All they've done up until this point has seemingly put the fans first but was the temptation of the Lego cheque book too great? Maybe not, as on closer inspection it appears they are just reaching for a younger market. "Lego Rock Band combines the multiplayer music experience of Rock Band with the fun, customization and humour of the Lego videogame franchise packed with brilliant chart-topping songs and classic favourites suitable for younger audiences" claims the press release.
If this is true then it could be a master stroke by Harmonix. The Rock Band and Guitar Hero brands are both well known in the medium but from personal experience they can also be quite daunting. Whether it be the image they exude, the pricing or the perceived target age range, some are put off from grabbing a plastic guitar and strumming along. Over the last few years, though, Lego videogames have built up a reputation of being accessible and welcoming which could be exactly what is needed to bridge the gap. I'm not saying that everyone who bought Lego Indy is going to drop over a hundred pounds to join in but I can see more than a few of those currently on the fence finally deciding to do so.
My biggest disappointment, however, is the track listing. When the title initially surfaced I had visions of a playlist featuring Pink Floyd's Another Brick in the Wall, The Judd's Love Can Build a Bridge and anything from New Kids on the Block. What a missed opportunity.
Feel free to leave your own Lego based song suggestions.