The football scene at Rare is robust one; there's the Tuesday evening kick-around, the Wednesday night league and during the summer a match post-work on Thursdays here at our very own Manor Park, which itself even sounds like a football stadium. To keep this level of football up we have a large pool of players to chose from and just as many understanding other-halves that allow their men to go out and kick pig's bladders around several nights a week.
We're not the only development house in MGS with such commitment, though. When our Head of IT went down to Lionhead, Guilford, a while back, he found an equally thriving sporting scene and it seemed only logical to pit their teams against ours in Rare's first inter-dev match in many a year.
We felt like an authentic away-day team driving down to Guildford yesterday afternoon; despite there only being just over a dozen of us, we were all sat upon a massive 60 seat coach, like the ones you see driving teams to cup finals, talking team tactics and deciding which of my defenders I was going to shout at most during the match. It was just as well we were given nice, plush transport, too, as it was a three-hour trip down into the centre of the M25 and when we finally emerged off the coach we couldn't wait to get started.
It turns out Lionhead are used to this sort of thing as they already had a predetermined 'A' and 'B' 7-a-side team ready to go. We, who usually pick the teams based on who is available on a certain night, opted for a slightly different approach as our manager-for-the-day split us up into "offensive" and "defensive" sevens, which made our American team members feel right at home. Due to my goalkeeping habits, I obviously went on the defensive team, which suited me just fine as I always feel more confident knowing that there are some defensively minded people willing to stop back and help cover the danger.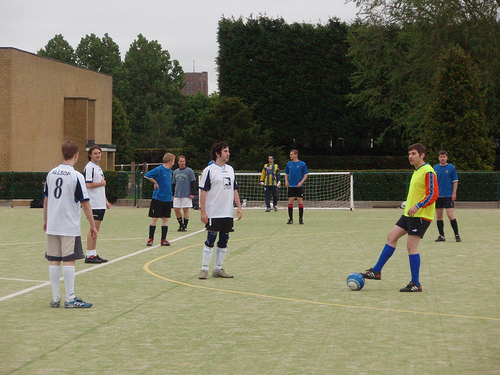 And so it began. Badly.
In our first game we conceded within five-minutes as a break on their left saw them power into the box and unleash a shot. I managed to get hands to it but gallingly it wasn't enough as it simply diverted the effort onto the post and eventually dribbled over the line on the rebound. They were well organised and we were sure we were playing their A-team; every time they pushed forward they looked dangerous and it was only due to the combined efforts of the defence and I that we managed to keep their best efforts out.
Their shape meant we mainly had to play on the counter, and although chances were few we managed to scramble a goal two-thirds of the way through the game to force the equaliser. I would love to provide a colourful and scintillating description of it but my view was horribly obscured. I'm assured it was scrappy, though, as our Russian striker at close-range managed to work the ball through outstretched limbs into the corner of the net.
With a draw under our belt, we moved on to our second game of the evening against their other team, who had just dispatched our offensive team (possibly in more ways than one) 3-0. Buoyed by the confidence gained by earning a draw, yet slightly apprehensive about the skills of this new team, we took the turf with Lionhead's blog producers capturing us on camera for posterity and possibly a video diary.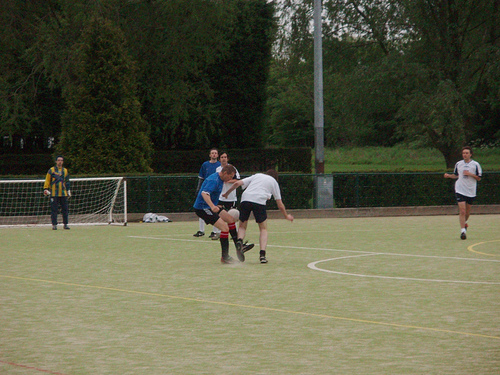 And so it began. Splendidly.
This time it was Rare that scored early on, with a lovely flowing set of dissecting passes resulting in forced error and an own-goal. Not quite the finish the move deserved, but at times you'll take anything.
We doubled our lead shortly after as a corner was swung in and our Russian front-man was again there to convert the chance. This time, though, it was with a majestic, salmon-like leap into the air to then head the ball past the despairing dive of their keeper and into the bottom right-hand corner. A quality finish, no matter what level you play at.
After that it was end-to-end stuff with our defence again severely tested, but in this match we asked some questions of the opposition's too. Toward the end a defensive error let them run on through to grab a consolation goal, but apart from that minor blip our defence stood firm and we walked away with a solid 2-1 victory. Regrettably, the same cannot be said for Rare's other outfit as they again went down to a 3-0 defeat: it just goes to show what a solid defence can do for a team.
After the final whistle both teams retreated to the bar and began to mingle with their on-pitch opponents, Lionhead obviously the happier having won two of the four games and only losing one of the others. You can't fault their hospitality, though, because by the time we reached the bar a tab had been started and beer was being thrust into our hands. Very gracious winners.
With the return leg somewhere soon in the offing, some trading of players between teams may have to be done to balance things out, but this could be the start of something interesting. There is already talk of friendlies with Liverpool's Bizarre Creations and other more local studios, not to mention a nationwide developer's tournament that someone's caught wind of. Before long we might even be able to get the bus branded with a Rare FC logo, but I think we're getting ahead of ourselves; I'll just settle for a new goalkeeping jersey.
EDIT: there are now some photos of the day.