What happened to Martin Jol can only be described as disgraceful. The way the board treated one of my favourite managers in a long time, and trust me we've had a few during my lifetime, beggars belief.
How any manager, in any job, could be told less than a month into the season he's effectively going to be sacked imminently and then asked to carry on as if nothing has happened is ridiculous. As soon as the board gave him "six games to save his job" the the writing on the wall.
Can I just point out that this is the man who took us into Europe two seasons in a row through the league. He is the first Spurs manager ever to do that and in his other season he was only one win off doing it for a third time. Hardly a shabby record.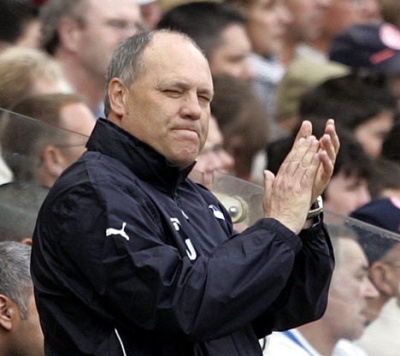 Part of the problem at White Hart Lane is we are trying to run a continental system of coaches, managers, scouts and sporting directors but end up just undermining all those whose necks are on the line. Santini spotted this early and exited and now Jol, lumped with strikers that he didn't want, has also paid the price.
When someone else is buying players for you, as our directors do for the manager, it can only spell trouble. For the past 18 months Jol had been asking for a left sided midfielder, a position we have lacked severely in, only to be handed Darren Bent. As highly rated as he is, he was over priced and pushed into a squad where we already have too many strikers that has already caused huge friction in the past.
As push comes to shove, we need stability. Far too many of the Premiership boardrooms are filled with impatient suits that want instant success. The chairmen need to look at Man Utd and Arsenal to see that stability brings success and understand that the managerial merry-go-round is not the silver bullet they constantly seek.
If you were Ramos, would you take the job given this?