Usually in the Bluu Bar in Nottingham on a Thursday night you will find Burlesque dancers; a troupe of provocatively dressed women there to entertain the businessmen of Robin Hood's native city. So imagine the disappointment of the regulars when they rolled up and found their bar full of geeks playing video games. Not quite as titillating.
It was an interesting juxtaposition, as people played Viva Pinata beneath an illuminated poster of a woman's slapped backside, but Microsoft and Rare had truly invaded Bluu Bar's basement this week and had turned it into a gaming paradise dubbed Freeplay Lounge, part of GameCity 2007.
The aim of the evening was to create a relaxed atmosphere where all attending could circulate, try different things and generally talk about their shared love of the industry – whether that be trying to break in or trying to break out. A bit of shameless self promotion doesn't go amiss, either.
Open to anyone attending GameCity, we had students, delegates, organisers and press drop by to see what was going on. A free bar helped attract in the sceptical and the addition of the Frag Dolls sealed the deal for a few.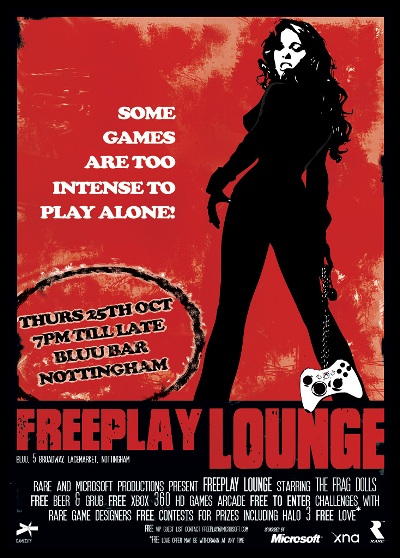 It seemed that an army of students had descended, some from far a field as Wales, and it was interesting chatting to them all about the different course on offer and answering any questions they had when it came to actually working in the industry.
360 kiosks were littered throughout the bar, showing off MGS's titles and allowing us to run a few competitions throughout the evening. Time trials on Forza 2 and a high score Kameo battle were appreciated but the highlights were the Perfect Dark Zero and Halo multiplayer tournaments. The latter, especially, caused whoops and hollers from the crowd as the evening built up to a tense one-on-one decided as to who took home a limited edition Xbox.
For the first event of its kind that we've put on, I think it went well; it was very well attended and the atmosphere was good throughout. The one negative is that considering we were there to be talked to, there was no way of distinguishing the Rare staff from any of the other attendees but this is a minor point and something we can address next year when we hopefully return to abuse the promotional account once more.