After writing my Happy Birthday Viva Piñata piece a couple of weeks ago, it seems the article has attracted the attention of other sites.
Firstly, and most predictably, the Rare website has taken it and placed in our Viva Piñata section. It's a good feeling to see it nestling in amongst Horace St. James Golightly's pinatathropological pieces.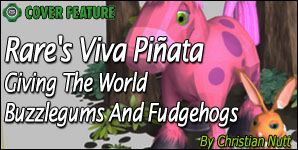 Secondly, and more surprisingly, Gamasutra have decided to do an article and a news story based around it. What's particularly special is that this time I get on their site without Marketing or masturbation being mentioned once, which is nice.
I know this is really nothing more than an ego boosting post but it really does warm the cockles to still see that others out there are still as enthused by VP as I am and that it warrants some column inches.