As the clock ticks towards half-midnight, I guess Christmas is truly upon us as it is now Christmas Eve. I'm up late finalising the wrapping of Ali's presents and making sure that everything is ready to go for my manic day of ferrying family members, pets and presents around the county.
It's been building up to be a splendid Christmas, not least of all because Ali and I took her god-daughter to see Father Christmas on Saturday. Along with Sylvia's mum Aoife, we all went to a village nursery and helped her meet the bearded present giver himself along with a couple of his reindeer.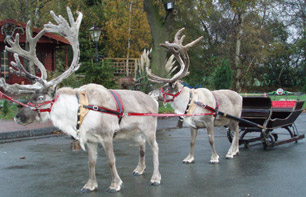 It was instant, joyful regretion for me as I hadn't been to a grotto since my sister was ikkle and what particularly made it to me was how eight-month-old seemed wide eyed at everything, as you probably would be when meeting a reindeer whose head is as big as your whole self.
Father Christmas even gave her a tiny packet of Cadbury's buttons and she absolutely loved them. Whether it was the texture of the packet or that vivid purple, she refused to put them down all morning and waved them gleefully at anyone who wandered by. That was the true kick-off for Christmas for me as I'm still grinning from the experience.
This will probably be my last post before Christmas as tomorrow is going to be insanely busy, so all that is left for me to do is to bid everyone of you a Merry Christmas; I hope Father Christmas is kind to you and that your day is merry and bright.