For about fourteen years now I've enjoyed the captivating mix of tactics and savagery that is American Football. Back in the day, Channel 4 used to have a weekly show highlighting the sport but since then it has retreated onto obscure time slots on random channels and only really pops out when one of the terrestrial broadcasters celebrate their capture of the Super Bowl. Like with the BBC this week.
I stopped up late last night/this morning to catch the New England Patriots take on the New York Giants for Super Bowl XLII and it was very much worth the tiredness I am now succumbing too. After last year's final where the Colts scored from kick-off and made the proceeding hours a bit of a procession, this was a tight contest between the creative Patriots' offence and a well drilled Giants' defence.
There is something about the way that each play can be different and each has its own nuances and pressures that makes this version of football a sport I could quite happily watch all day long.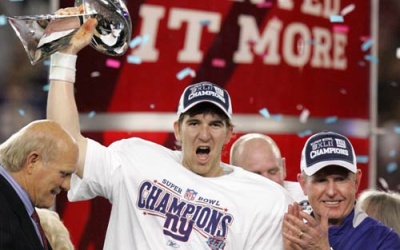 In the end, an amazing play by the Giants' quarterback evading four onrushing tacklers, dodging out of the pocket and lobbing a 40-odd yard pass on the run to his receiver, who caught it way off the ground and surrounded by opponents, was worth stopping up for alone. The fact that the underdog Giants then snatched it with a touchdown when only 35 seconds were left on the clock simply topped it off with a cherry.
The big problem with not getting regular access to coverage is it always creeps up on me that my team the 49ers still suck. It appears as though no matter what country or sport my choices fair the same.