Whilst they may not be able to make me want to live it up whilst I'm going down, the announcement of an Aerosmith edition of Guitar Herodoes fill me with hope. For if Activision are planning on doing themed versions for everyone's favourite plastic guitar, then it opens the doors wide in terms of possible future content.
Right now we have to wait for the dribs and drabs that reach us via downloads but if they embrace the Sing Star model we could have a new compilation pack every couple of months.
Since 2006, Sing Star have launched over twenty different versionsaround the world. Every one is specialised in a different genre, national taste or decade but each of them are there to broaden the appeal of the series to snare in yet more unsuspecting singers. From Bollywood to Norway, Rock to Pop, Sing Star tries to supply everyone with something and no one could argue that's a bad thing.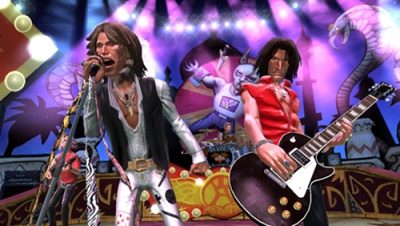 So could we see the Guitar Hero brand being associated with more bands and genres? Hopefully. Not only would it be a good way to retain its presence at retail and differentiate itself from Rock Band, but as it stands that they have already done an 80's edition and seemingly have various trademarks lined up, both giving further credence to this possibility.
Here's hoping for an Ocean Colour Scene version some time soon.