Glorious, absolutely glorious. Spurs' victory over Chelsea yesterday is a result that has put me over the moon, to use a footballing cliché.
Not only were we the underdogs, not only did we come from a goal behind but we also managed to lift the cup against those lovely people from Stamford Bridge.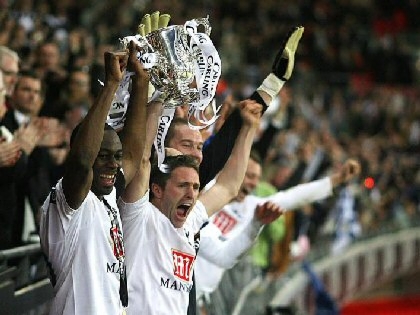 The whole afternoon was a bit surreal as I was round a fellow Tottenham supporter's house watching the game on German television with a slightly delayed radio commentary from Five Live.
All in all, this lead to a slight confusion around our penalty; for a whole minute we thought one of our players had been flagged offside or had been done pushing. It wasn't until Berbatov placed the ball on the spot we realised what was going on.
There was no doubt about the final whistle, though, and it was a touching moment to see King and Keane lift the cup together. For their services to the club, I don't think two players deserve a medal more than those pair.
Well done lads; well done Ramos; and well done Big Martin Jol, whose efforts should not be forgotten.
And the Spurs go marching on.