For most of my life I've been a Pro Evo man. Compared to the FIFA series, it offered a greater level of realism and really made you work for everything that you did, which I found very rewarding. The gap over recent years, however, has been narrowing, with the recent outings for the behemoth EA steadily improving, leaving the more arcadey feel of previous titles behind.
The latest release, UEFA 2008, adds another string to its bow with the Captain Your Country mode, where you take choose a single player and then take control of him throughout the entire qualification campaign. Starting in the B-Internationals, you must work your way up through the ranks to first earn a squad place and then the captain's armband.
Playing as a single position for the entire season may not sound inspiring but it brings a refreshing new dimension to the game as it allows you to think about how the game is played in a completely different fashion.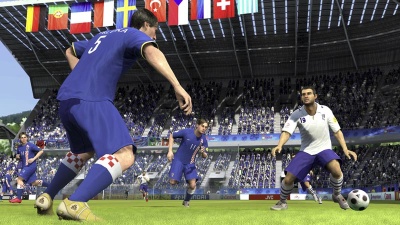 Taking the role of a striker, you'll no long have to rely on the computer starting to make runs for you, taking control only when you've slipped yourself a through ball from the midfielder you just sent on a scything run. Instead, you'll be constantly watching the line, calling for the ball and doing your best to make space whilst the AI does the mundane defensive duties.
The added feature is that you are actually rated for everything you do and poor play will see your Man of the Match score slowly tick down. It definitely encourages you to keep your passes true and your shots on target as you can risk the loss of the captaincy if you put in a shocker.
As always in these situations, multiplayer takes a good idea and makes it even better. With four of you playing in this mode you get a sense of team play as never before as it is infinitely easier to keep tabs on what is going on without the flicking of cursors between different men.
In the couple of hours we put in post-palooza, some wonderful goals were carved out with defenses being pulled out of position and inch-perfect crosses. Furthermore, these Goal of the Month contenders can even be saved to Flash files on the game's website so you can relieve that clinical finish over and over again.
If you like your football games and you can stomach the third high-profile release in the genre in the last six months, then UEFA 2008 is definitely worth your time.