There is something joyous about being back in the Capital Wasteland. The release of Broken Steel has given me another excuse to return to Fallout 3 and although it may be a landscape carved from a nuclear holocaust, after a six month holiday it is the most beautiful gaming world there is.
The only reason that Bethesda's sprawling RPG was initially put to one side was that after 50 hours playtime and with a building pile of unplayed releases piling up I felt that it would do me good to try something else. In that time the controls disappeared from my memory and so the first half-hour was spent figuring out what was what and sifting through my inventory to see exactly what was what. Vague memories of just where I had plundered certain items from came floating back: Lincoln rifles looted from the very heart of the Capital buildings; bobbleheads pulled from long closed vaults; and trinkets stolen from a thousand defeated foes. It was as if I had found a long lost box of knickknacks in the loft.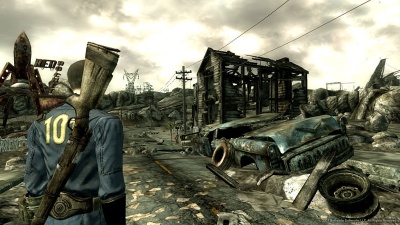 A big worry for me had always been whether Fallout would continue to be as good as I had made out. Whether it still deserved to be placed upon a pedestal. Those fears were put to one side only five minutes after leaving the safety of Megaton. Trying to map out those areas of the wasteland I had yet to tread, I headed off into the unknown only to find a children's playground in the middle of no-where. In the centre of this was a climbing frame shaped like a space rocket, crafted into a seat. Or more exactly, a throne, for on it sat The King of Roaches, surrounded by dozens of his cockroach subjects. In a world thrown into chaos one sane man had decided that the only way he was going to survive was by donning a survival mask and setup a new kingdom in a desolate valley.
Upon approaching him to pay my respects he admittedly did pull out a minigun but that is neither here nor there as it is nuggets like this that keeps the game so interesting. Every inch of the game contains such an attention for detail that I just want to keep exploring. Already in my first play session I have unearthed a hidden military stockpile protected by dozens of barrels of nuclear waste, a slaver camp where they wish me to put explosive collars on new "recruits" and have seen off a mutant invasion from a small homestead. No wonder I'm knackered this morning.
The best games are those that are not only great the first time you play but also the second, third and fourth, too. Fallout was definitely no flash in the pan and with the level cap now pushed up to 30 it has managed to suck me back in.