So what did you take away from TGS? Anything monster?
Back home I'm still without a Xbox hard drive and I'm twiddling my thumbs, relying on a storage device that is only just large enough to hold my profile and a Halo save game. It's a good job my copy of FIFA 09 appears to be lost in the post as I don't think I'd have room to save out a season's campaign even if I wanted to.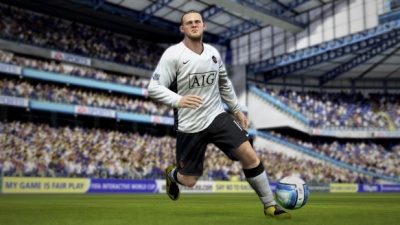 This year the classic choice of FIFA or Pro Evo has swung in EA's favour, for once. It's been a good few years since I've bought into their highly polished version of the beautiful game but with all their leaps and bounds forward, compared with Pro Evo's continuing insistence to neglect to fix up niggles that have plagued the series for years, I'm happy to invest. Play seems smooth and natural, and for as much as I have the greatest respect for Konami's efforts they just haven't evolved enough, in my opinion.
Continuing on from my enjoyment of UEFA 2008's multiplayer, FIFA brings with it what can really only be described as a clan system. A whole squad of you and your friends can get together, form a "club" and then up to ten of you can play online at the same time in the same team. Obviously this could be disastrous and I initially had visions of a school playground where players would flock after the ball like birds in migration, but when executed well with a group of competent team mates it does have tremendous potential.
The sticking point may be which team we adopt as I've seen one friend obsess over Cheltenham town, we have a Cardiff support in our ranks and Spurs aren't exactly setting Europe alight this season. We may have to go for some neutral ground… Spain or Brazil, maybe, as a compromise.