Looking at the release schedule, which has steadily been growing week upon week until the current "What's Out" listing looks comparable to the north face of K2, this Friday's has to be the most demanding of the year for me. These last seven days will have brought Gears, Banjo, Left 4 Dead, Guitar Hero World Tour, Mirror's Edge and End War to the shelves, and this is on top of my pre-existing love affair with Fallout 3. What is a boy to do?
The one release that passed my silently by was Wrath of the Lich King, a World of Warcraft expansion. Quite strangely it was only brought to my attention by BBC Radio 5live covering its midnight launch. They were interviewing someone who had camped out since Tuesday in order to be first in line and were quite reasonably discussing its addictive properties.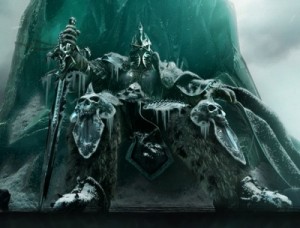 Part of me is quite disappointed that I am no longer interested in World of Warcraft enough to be excited by or even to notice a new chapter working its way out to the masses. Having played two serious stints before, the second triggered by the release of the previous expansion, I definitely count myself as a fan but I believe my time has been and gone is Azeroth.
World of Warcraft still can claim home to some very memorable gaming moments due to the team work and social engagement it brought with other players in the world. A core four from within Rare formed our party but in the end it required so much planning to get the whole quartet together at the same time on the same night that the feasibility of playing just dropped away. At higher levels, its scale is hardly something you can dabble in at lunchtimes.
Currently I wander the plains of a different world, Fallout 3's Capital Wasteland, and until that has been put to bed I can only see a certain rhythm action game being played in parallel. Everything else will just have to wait.